LOBH is pairing with Live Nation to give away a pair of tickets to the Heavy and Light show in NYC with Fiction Family! You have until tomorrow afternoon at 1pm EST to win them!
There are a few ways to win:
1. Comment below (include your email!), letting us know you want the tickets.
2. Post the following update on Twitter: TWLOHA and @fictionfamily at Irving Plaza in New York on 2/13! Tickets: http://concerts.livenation.com/event/0000498AD4BEFBEE #lobh
3. Share THIS Facebook status update on Facebook!
We'll randomly choose one winner to win a pair of tickets to the show! The winners will be on the guest list and will need to bring ID to claim the tickets. Please be sure to check your social media outlets (or your email) over the next hours so you don't miss any communication from us! Good luck everyone!
In case you missed it, Fiction Family played a special show (that was streamed live) in Philly today. Our columnist Alex was able to record the live stream for us, so watch it below!:
Now for tour updates!
Chicago – 2/10
Fiction Family stopped by the Chicago Music Exchange to record some in-store videos of the band playing a few tunes – hopefully we'll have video soon, but in the meantime, check out these photos from the Chicago Music Exchange website! (Thanks Jim!)
Here's the setlist from the show that night, thanks to our friend Wesley!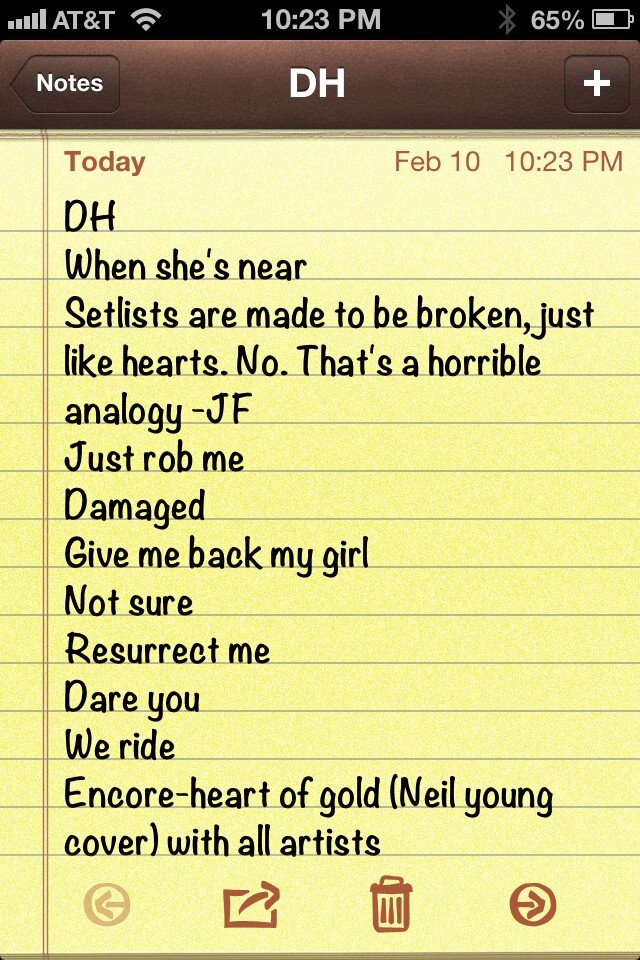 Detroit – 2/9 
This was a fantastic show and Fiction Family even brought out "We Ride" for the first time on tour. I photographed the concert, so keep an eye out for pictures coming soon – but in the meantime, here are a few others, from a few talented photogs!
From Emily – view her full set HERE!
Here's a great set of photos from one of the photogs I shared pit space with – check out his full set HERE!
If anyone else has any updates from Heavy & Light, feel free to send them into us at news@landofbrokenhearts.org!