Greetings friends!
It's time for the annual "Year in Switchfoot" countdown, where we relive the memories, retell the stories, and revisit the not-so-distant past to count down BEST (or most memorable!) Switchfoot moments of the year. This has been a beloved LOBH tradition since 2007, but this year we're going to break from tradition just a bit… a instead of posting the full top 10 list on the first day of the new year, we're going to post 2 a day, countdown style, leading up to the first few days of January. We hope you'll enjoy the journey down memory lane, and leave your own memories, lists and thoughts in the comments below!
To visit our previous "The Year In Switchfoot" countdowns, click
HERE
.
HONORABLE MENTION – Switchfoot Covers Adele's Rolling In The Deep
Oh lord. I still remember the interwebs blowing up after this happened. It was unexpected, hilarious and kind of awesomely bad. In a good way… and come on, Tim's backing vocals rocked, didn't they? The guys only attempted this cover in concert once, sadly. I talked to Jon about the performance the next day, and he hilariously commented that they had practiced it before and it sounded pretty darn good… but when they played it live? "It just… didn't." Whatever. We liked it.
Additional Reading:
10. Switchfoot Turns Up…
Where? EVERYWHERE. Seriously, we saw Switchfoot in some of the most unlikely places this year. Take a look…
- People Magazine -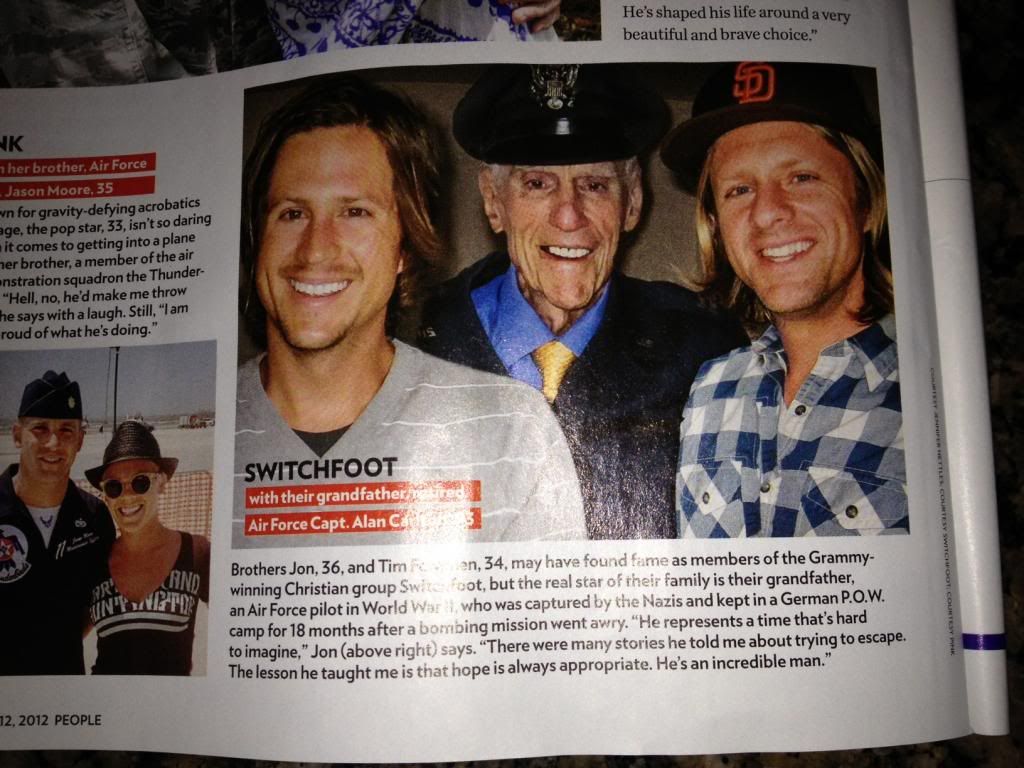 - Under Armour Commercial – (JT Daly's Remix of The Original from Vice Re-Verses)
- iPhone 5 Commercial – (Always music)
- American Idol – (The contestants perform Stars; A contestant is encouraged to sing Switchfoot)
- Major League Baseball & Hockey - 
Honestly, I think what I like the most about all this, is that it's so VARIED. None of these appearances are in any specific genre – sure, maybe American Idol and People are pop-culture, but then you have sports and tech appearances. We think the diversity does the boys justice.
Additional Reading:
9. LOBH Interviews Switchfoot/The "Where I Belong" Flag Project
Alright, alright, we're tooting our own horn here, but come on! This was cool, yeah?
Let's start with the interview. Over the years, during our time as a site, we've interviewed almost everyone who is involved with Switchfoot – from Charlie Peacock, to Andy Barron, to Mike Elizondo. Yet, in all that time, we've never interviewed Switchfoot themselves. Why? Just never got around to it. This year, we decided to change that. So we took to the web and asked YOU to send us YOUR questions for Switchfoot – and we got flooded with dozens and dozens of fun, interesting, and creative questions for the guys. So this happened:
Drew's "Trip Cutno" story alone should justify the inclusion on this list.
Tied for 9th place, is definitely the Flag Project – and we're not sounding our horn here, it was YOU guys who took this project and made it special. What was the Flag Project? This:
There's no doubt about it, Where I Belong has become one of the favorite songs off of Switchfoot's Vice Verses release. It means so much to so many fans… and to the guys. As Jon has said, "Whenever Switchfoot breaks up as a band, this is the last song I want to play." This song has become a beacon, a symbol, for so many people. Lately, Jon's been embodying that physically, by bringing out a massive "Where I Belong" flag whenever the guys play the song in concert. Check out some photos!:

So here's the plan. We want YOU guys to make your OWN "Where I Belong" flags and bring them to the fall (2012) tour. When the guys start this song, unfurl them, wave them around, and become a part of the story. You may go to a show where there's 4 other flag wavers. You might be the only one. But either way, imagine how neat that will be for the guys to see from the stage – the audience answering with a flag of their own, becoming a part of the narrative.
You guys took it from there. Nearly EVERY show on the Fall Tour had at LEAST 2 flags present – most had 4 or 5. Jon even took to "borrowing" the "Where I Belong" banners from fans and bringing them up on stage with him. Check out these shots from the project:
The story went on…
Additional Reading: 
8. Jon's Solo Release Progresses
Can you believe it's been almost 4 years since Jon's solo albums released? The four seasonal EPs were beloved by fans and critics alike, and ever since we've been waiting to hear more from our favorite lead singer. There have been hints and inklings over the years of more music, but this year we finally got something concrete. Jon confirmed that he IS working on a new release and that some of his friends and fellow artists (Darren King, JT Daly, Jeremy Larson, Ryan O'Neal and others) are producing the tracks.
Ryan O'Neal (Sleeping At Last) and Jeremy Larson both blogged about the experience:
If you've followed the Sleeping At Last Twitter or Facebook over the last several months, you might have seen me mention that I've been working on a few "secret projects"… well one of those secret projects is with my pal, Jon Foreman (Switchfoot). Earlier this year, Jon asked if I'd be interested in contributing to his upcoming solo record (release date tba)… So he sent me a song that he had just finished writing and asked if I'd care to add some things… anything I'd like, really. So I spent a bit of time with it (adding anything that popped into my mind… drums, bass, strings, pianos, background videos, etc!) and had an incredible time layering ideas onto his gorgeous song. Soon after, he was kind enough to invite me to contribute to a few more songs. It's been such an honor to say the least… Jon is one of my favorite songwriters (and people) ever, so to be invited to be a part of his music is just a wonderful privilege!

Although I have no clue as to when these songs will meet the world, I can say that they are some of Jon's very finest work and I cannot wait for you to hear!

Much love, Ryan
From Jeremy:
I've been keeping something a secret for quite some time, but I think it's safe to let you all in on this now.  Jon is working on a new solo album, and I wrote some string/piano arrangements for two of the songs.  Since he tweeted about this the other day, I figured it was safe to talk a little bit about it.  I'm not exactly sure when this album is set to be released, but I'm so excited for you all to hear these two songs.  Some of Jon's best songs yet!
With Jon being so busy with Fiction Family and Fading West, it's doubtful that we'll get anything solo for awhile, but it's nice to know that it's a work in progress – and it sounds like it's going to be INSANE.
Additional Reading:
7. The Switchfoot Bro-Am
A standard on this list by now, but it IS the guys favorite day of the year! This year the Bro-am expanded a bit to a 2 day surf contest (a youth division and the regular contest) and the auction soiree, a show at the San Diego fair and the beach concert rounded out the events. And let's not forget the always amusing surf jousting contest.
Check out some photos!
A taste of Drew's awesome MCing:

Once again, thousands of dollars were raised to support the work of Stand Up for Kids, helping homeless kids on the streets of our cities and towns.
As good as the 2012 Bro-Am was, we're STOKED for the 2013 Bro-Am… not only will it be full of awesome music and events for a great cause, but they're planning to premier Fading West there as well. We can't wait.
Additional Reading:
6. Switchfoot Goes Back to South Africa
When the guys first went to South Africa, way back before the release of NiS, the trip inspired many things: the Shadow Proves the Sunshine; work with the Kuyasa Kids and a large part of the Lowercase People initiative. The guys often talked in the ensuing years about the trip, referencing the hope and inspiration they found in the people, and about their desire to go back. This year, they finally were able to make that return trip. As part of their Fading West filming, the guys returned, to play some shows, make some music and of course, surf. While we'll have to wait till the release of Fading West to see all the details of the trip, we still got lots of awesome photos, stories and videos from their time there. The guys even got to reconnect with the Kuyasa Kids, who joined them on stage during their show. We think this is going to be a VERY special part of the new movie.
- Chad learns some moves from the Kuyasa Kids -

- The Shadow Proves The Sunshine with the Kuyasa Kids -

- Pictorial goodness from South Africa -
Additional Reading:
Read Part 2 of our "Year In Switchfoot" list right
HERE
!