The Switchfoot Bro-Am page, information and dates for 2010 have just been added to Switchfoot.com! Click HERE to check it out.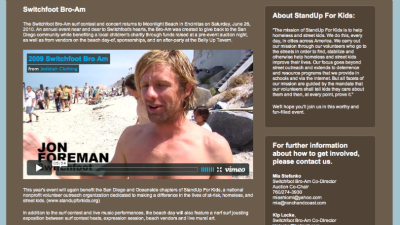 FOR IMMEDIATE RELEASE: Multi-platinum rock act Switchfoot presents sixth annual Switchfoot Bro-Am featuring a pre-event auction night, charity surf contest and concert, and Belly Up after-party to benefit StandUp For Kids
Switchfoot Bro-Am Auction Night Soiree
When: Friday, June 25, 2010
Where: Private La Jolla Farms Home
6th Annual Switchfoot Bro-Am
When: Saturday, June 26, 2010
Where: Moonlight Beach in Encinitas, CA
Surf contest: 7am-3:30pm
Concert: 11am-5pm
*Performers to be announced shortly!
*A free event featuring a surf contest, concert, beach vendors, live mural art, and more!
Bro-Am after-party hosted by Switchfoot
When: Saturday, June 26, 2010
Where: The Belly Up Tavern, Solana Beach
Within the next few months, LOBH will start organizing and setting up teams of reporters who will post live updates straight from the Bro-Am onto the Bro Am twitter feed, so if you are planning on attending the event, please keep an eye out for any announcements regarding that.
As always, we'll keep you posted as more Bro Am information (bands, events, surfers, etc) are announced. Please be sure to follow the Bro Am Twitter account for the latest updates as they happen.